---
---
Lucid Dreams, Distant Visions at Asia Society Museum, NY, June 27 - Aug 6, 2017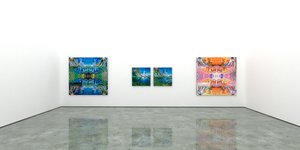 Lucid Dreams and Distant Visions: South Asian Art in the Diaspora, organized by Asia Society Museum with the support of the Smithsonian Asian Pacific American Center, considers the work of nineteen contemporary artists from the South Asian diaspora who explore notions of home and issues relating to migration, gender, race, and memory across mediums and aesthetics. These artists represent a microcosm of the American experience and their respective practices across four decades have collectively made a significant impact on the development of contemporary art in the United States.

Featured artists: Jaishri Abichandani, Anila Quayyum Agha, Mequitta Ahuja, Rina Banerjee, Khalil Chishtee, Ruby Chishti, Allan DeSouza, Chitra Ganesh, Mariam Ghani, Vandana Jain, Gautam Kansara, Annu Palakunnathu Matthew, Naeem Mohaiemen, Kanishka Raja, Tenzing Rigdol, Shahzia Sikander, Jaret Vadera, Palden Weinreb, and Zarina.
---
Try To Smoke It curated by Holly Coulis at Taymour Grahne, NY, May 2 - June 7, 2017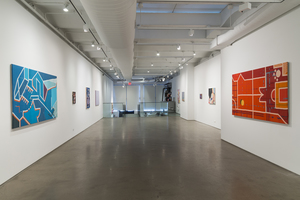 Hannah Rose Dumes
Angela Heisch
Kerry Law
Danielle Orchard
Alan Prazniak
Kanishka Raja
Lumin Wakoa
Mitchell Wright
---
Transforming Visions at the Pizutti Collection, Columbus, OH, March 10 - Oct 28, 2017: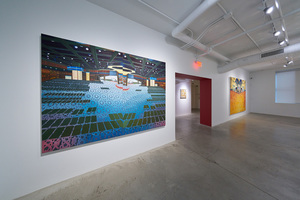 Transforming Visions: 21st Century Art from the Pizzuti Collection

Transforming Visions includes some of the most prominent Indian artists working today. The forty works in the exhibition share deep roots in a sense of place paired with an engaged and active interest in our global world with themes including religion, the environment, colonialism, and technology. Artists include:
A. Balasubramaniam, Rina Banerjee, Astha Butail, Krishnaraj Chonat, Anju Dodiya, Vibha Galhotra, Subodh Gupta, Sashki Gupta, Anant Joshi, Jitish Kallat, Reena Saini Kallat, Anish Kapoor, Bharti Kher, Bari Kumar, Sheila Makhijani, Jagannath Panda, Pors & Rao, Chinmoy Pramanick, Kanishka Raja, KP Reji, Mithu Sen, Ranjani Shettar, Sudarshan Shetty, Navin Thomas, and Avinash Veeraraghavan.