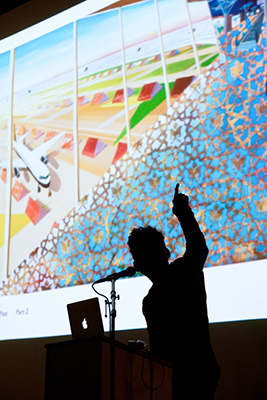 Kanishka Raja is a painter working across media, at the intersection of representation, ornament and multiple textile and printing technologies. In composite fields that tap into oppositions of the technological versus the handmade, original versus reproduction and neutral versus contested, Raja's paintings and their woven, scanned, printed, embroidered and reproduced counterparts interlock in complex visual fields that consider the politics of location and territory and are charged with colliding realms of the foreign and the familiar.
Mr. Raja has exhibited widely in the United States, Europe and India and his works have been included in solo and group exhibitions at the Institute of Contemporary Art (Boston), the Samuel Dorsky Museum of Art (SUNY, New Paltz), the ICA, Philadelphia and the Rose Art Museum (Waltham, MA) among others. Selected solo gallery exhibitions include
Against Integration
at Greenberg van Doren, New York,
In The Future No One Will Have A Past
, simultaneously at Jack Tilton and Envoy, New York and
I Have Seen The Enemy & It Is Eye
at Galerie Mirchandani + Steinrücke, Mumbai. In 2016, Raja completed work on a major Percent for Art commission from the Department of Cultural Affairs, New York City for a permanent public artwork.
Kanishka Raja's work was featured in the recent monograph
Passages: Indian Art Today
(Gerard Goodrow & Julia Ritterskamp, daab Media, Cologne, 2014) and will be included in the upcoming volume,
20th Century Indian Art
(Rakhee Balaram, Partha Mitter & Parul Mukherji, editors, Skira, Milan, 2016). Exhibitions of Mr. Raja's work have been written about and reviewed in
Artforum
,
The New York Times
,
The New Yorker
,
Art In America
,
Art Asia Pacific
,
Tema Celeste
,
Asian Art Newspaper
and
The Boston Globe
, among others.
Raja is the recipient of a 2011 Painters and Sculptors Grant from the Joan Mitchell Foundation and winner of the 2004 ICA Artists' Prize awarded by the Institute of Contemporary Art, Boston.
He has been awarded a
Lower Manhattan Cultural Council (LMCC) Workspace Residency, been a Fellow at the Civitella Ranieri Center in Umbertide, Italy and a recipient of an NEA funded residency at the International Studio & Curatorial Program (ISCP), New York.
The artist was born in Calcutta and lives and works in New York and Kolkata. The circuitry of his production is grounded firmly in the particular contingencies of this apposition.